Our Services
Oak Hill is your local tree specialist, providing the highest quality service throughout Carroll, Howard, and Montgomery counties. As a top-rated arborist headquartered in southern Carroll County, Oak Hill Wood Service is ready to attend to all your tree pruning, cutting, and removing needs. We are experts in servicing all varieties of local trees including oak, maple, poplar, pine, hemlock, sycamore, beech, and more. As needed, we are prepared to act quickly and assist in clean-up efforts after high winds, thunderstorms, and snow and ice events.
Our fleet of trucks can respond quickly to all areas of Howard County Maryland including: Columbia, Ellicott City, West Friendship, Clarksville, River Hill, Jessup, Dayton, Fulton, Highland, Glenwood, Marriottsville, Woodbine, Glenelg, Elkridge, and others. We also service surrounding areas in Carroll County Maryland and Montgomery County Maryland. Below are listed many of the different types of services we provide.
Tree Removal
Let us assist you in the removal of any trees or shrubs that may be dead, hazardous, or prohibit the growth of bordering plant material.
Different Types of Pruning
Crown Clean: Selective pruning used to remove dead, fractured, or even broken limbs
Crown Thinning: Selective pruning to reduce density of live branches. The desired result is a thinner more even distribution of limbs in the crown.
Crown Raise: Pruning and trimming to provide additional vertical clearance.
Crown Reductions: A selective type of pruning to decrease height and/or spread of the crown. Consideration will always be given to the species of the tree to understand if it can tolerate this type of pruning.
Crown Restoration: Pruning that is done to improve the structure, form, and / or appearance of trees damaged or improperly maintained.
Vista Prune: Specialized pruning focusing on providing clearance and better views of the surrounding area.
Utility Prune: Selectively removing limbs or subordinates to create line clearance.
Stump Removal & Stump Grinding
Removing stumps in a recycled manner by using specialized grinding equipment. This is accomplished by using several different types of machinery, ranging from smaller residential units to commercial units large enough to accomplish most any job.
Selective Lot Clearing
We will come to your site and give a free consultation on which trees should be removed or protected.
Our lot cleaning not only includes tree removal or protection. It also includes the clearing of undergrowth such as briars, weeds, etc.
Also included, we will grade the desired area if necessary.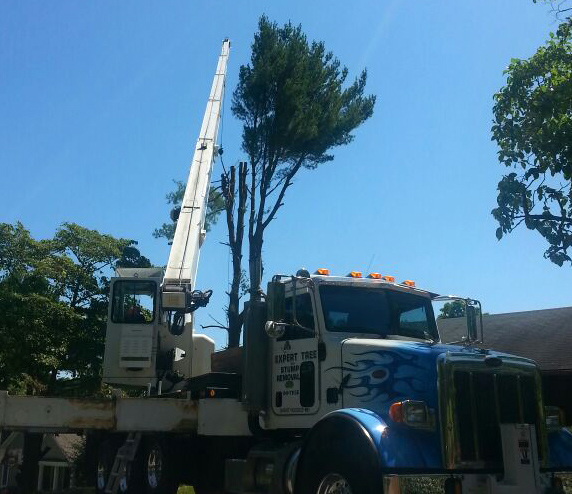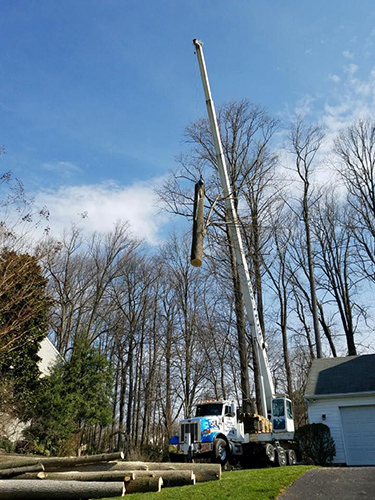 Full Lot Clearing
We will increase the size of your yard; create room for an addition or even new home sites, driveway, etc. At OHW, we have a full line of modern forestry equipment, powerful enough to undertake any project.
Crane Service
Our cranes can be used in removal of trees which are unsafe to climb or need to be lifted over structures that need to be protected in the tree removal process.
We can use our cranes to lift objects from fixed platforms to heights of one-hundred and forty feet, weighing up to twenty five tons.
In case of poor weather conditions, mats can be used to protect the access area.
---
"We've used Oak Hill in the past and been very happy with them. Their estimate to take down a huge dying oak tree was half the amount of the estimate our neighbor got (the tree is on the boundary line between our properties, so we split the cost). Will came right out to do the estimate, and was patient about waiting for our HOA approval (required in our neighborhood for tree removal). He's good about scheduling, and if he can fit you in earlier, he will. Also, one of the few companies I've encountered where they leave a cell phone contact number on the office voice mail. A crew of three came out to take down the tree. They were polite, professional, efficient and very, very neat; no yard damage, the wood is stacked, and all the debris was cleaned up."
Angies List Review: Marriottsville Maryland
"Oak Hill Wood Service, are super! Very organized and professional. Did what they said they would. I got 3 bids from other companies, and their bid was the best, it was comprehensible and understandable. They had to cancel a couple times due to weather, but that is understandable in their field of work. I will use them again if needed, they would be the first and only ones I will call."
Angies List Review: West Friendship Maryland