Tree Maintenance
The best methods of preservation are listed below, all of which we can and will perform professionally. We are conveniently located in Eldersburg MD and can service surrounding cities including Gamber, Jessup, West Friendship, Clarksville, Germantown Marriottsville, River Hill, Glenelg,, Rockville, Highland, Glenwood,, Woodbine, Ellicott City, Westminster, Dayton, Sykesville, Elkridge, Mt. Airy, and other cities in Carroll County, Howard County, Montgomery County and surrounding areas in Maryland.
Pruning:
Crown Cleaning: Remove dead limbs
Crown Thinning: Thin canopy
Crown Raise: Increase view
Crown Restoration: Improve structure
Vista: Increase view
Utility: Wire clearance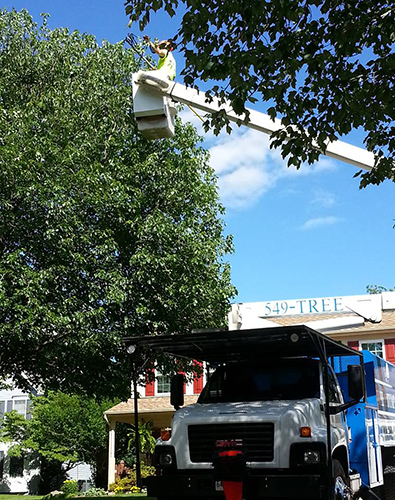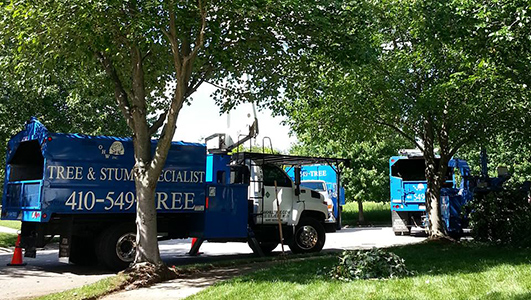 Fertilization:
This can be very important for nutrition in many situations where the plant has been damaged or possibly transplanted.
Cabling:
Cabling is used when it is necessary to limit all movement of limbs. Sometimes it's used to support the weight of larger limbs by attaching the cables. This is one of the most common and most useful methods of preservation.
Anchoring:
This is performed when there may be a damaged tree or a freshly transplanted tree. You can support the tree by anchoring to the base or another tree or even anchoring into a structure or man made support.
Bracing:
Installing braces and rods to the tree where there may be a split or a break, this allows the tree the ability and time to increase in strength.
---
"They had worked for us before so we trusted them. The clean up was total and professional as was the work. Will and his crew work well together. We got other estimates and OHW was less and did more. We're about to call them again to trim some pines back for us."
Angies List Review: Columbia Maryland
"He is very good, professional, and fair. He is very knowledgeable when it comes to the health and well being of trees. He will tell you when he can do the job, but if he's in the area he will call and let you know he can come early. He cleans up really well. I can barely tell he was here except for that my trees look good. I think he's terrific."
Angies List Review: Jessup Maryland